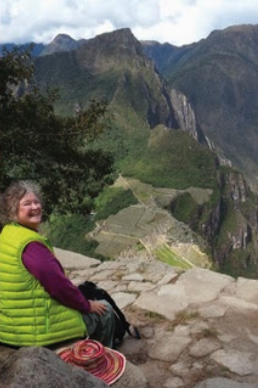 Photo: Gloria Giffords
Martha and Gloria rest at the top of Huayna Picchu in Peru.
About the Author, Martha J. Egan
"I always intended to get serious about writing fiction," says award-winning author Martha J. Egan. "But it took hideous experiences with US Customs to force me into it." The result was her semi-autobiographical first novel, Clearing Customs. In 2005, the OnLine Review of Books and Current Affairs named it Book of the Year. Egan has been an importer of Latin American folk art since 1974 through her store, Pachamama, now located in Casa Perea Artspace in Corrales, New Mexico. Her three subsequent fiction titles, all reflective of the culture of the American Southwest, have earned various awards, including nine for her most recent novel, An Apricot Year.
Martha J. Egan's BA in Latin American History is from the University of the Americas in Mexico City. She earned additional "degrees" in the Universidad de la Calle—the School of the Street—as a Peace Corps volunteer in rural Venezuela and a folk art importer for nearly a half-century. Contacts with artisans, antiquarians, curators, and collectors throughout Latin America, as well as copious research in various languages, have inspired Egan's books, articles, and essays on various aspects of Latin American folk art for museum catalogues, newspapers, and magazines in Argentina, Mexico, Spain, Portugal, Italy, the United Kingdom, and the US. She is a frequent speaker at museums and conferences in the US and abroad. She received the first The Van Deren Coke Award from Los Amigos de Arte Popular. Since 1991 she has been a Research Associate, Museum of International Folk Art in Santa Fe, and is a member of the Society of Jewellery Historians (British Museum). For fun, she writes fiction books, is an environmental activist, a Big Sister, and a gardener. She rides her bike to Casa Perea Artspace, and shares rural New Mexico with coyotes, quail, way too many ground squirrels, and the ghost of an old cat. The only TV she watches are Green Bay Packer football games.
About the Editor
The Editor of Papalote Press is Pachamama alumna, Santa Fe textile artist, Carol Eastes. She holds a BA in Art & Theatre from Rockford University in Illinois from which she graduated summa cum laude, Phi Beta Kappa. She had a Fulbright Tutor Grant in India, where she taught English & studied Rajasthani textiles. She first came to New Mexico in 1972 to work in the Santa Fe Opera costume shop, returned in 1976, and stayed.
About the Marketing Director
The Marketing Director, Victoria Plata, received her BA in Education and an MA in Multicultural Arts and Spanish from the University of New Mexico; she also studied Mexican Folk Art and Theatre at Universidad Nacional Autónoma de México.
As the first Director of Education for Broadway Sacramento (1996-2013), California's largest nonprofit musical theatre, she developed the dynamic and innovative programs that continue today.
As a Fellow of the California Arts Council and as an Arts Education Consultant for the Sacramento Metropolitan Arts Commission she fostered local arts partnerships and arts in school programs.
She served as board president for the Mexican Cultural Center of Northern California, was a founding member of Chalk It Up to Sacramento, funding arts education programs in public schools, and was the Executive Director of La Raza Bookstore / Galería Posada, a Sacramento-based nonprofit community arts organization.
She previously coordinated education programs for the Hispanic Cultural Foundation in Albuquerque, New Mexico and early in her career taught art and Spanish in the Albuquerque Public Schools.
She has been an actor, a scenic artist, and a cultural consultant for film, theatre and television productions in New Mexico and California.