papalote, n. (< Mex. Sp. papalota < Náhuatl papalotl, butterfly)
Literally, "a thing of leaves or pages." In contemporary Mexico, New Mexico, and Cuba, a butterfly, kite, or windmill.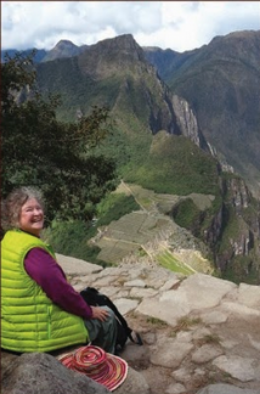 Photo: Gloria Giffords
Martha and Gloria rest at the top of Huayna Picchu in Peru.
About the Author, Martha J. Egan

"I always intended to get serious about writing fiction," says award-winning author Martha J. Egan. "But it took hideous experiences with US Customs to force me into it." The result was her semi-autobiographical first novel, Clearing Customs. In 2005, the OnLine Review of Books and Current Affairs named it Book of the Year. Egan has been an importer of Latin American folk art since 1974 through her store, Pachamama, now located in Casa Perea Artspace in Corrales, New Mexico. Her three subsequent fiction titles, all reflective of the culture of the American Southwest, have earned various awards, including nine for her most recent novel, An Apricot Year.